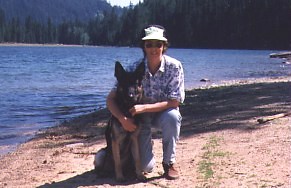 Jan Lee and her dog Sam.
Jan Lee's Bio
---
Jan Lee's love for travel began at the age of 11, when her family moved to Mexico and Guatemala. Although the stay was brief, it left an indelible mark in her memories. The year was 1965, a promising time for Mexico, but a troubling one for Central America.
Since that time, she has lived in 7 countries and travelled in more than 25, including Spain, Israel, Nicaragua, Czechoslovakia and Yugoslavia. Her initial travels to Central America and Mexico led her to obtain her Bachelors of Arts in Spanish from Simon Fraser University, in Burnaby, British Columbia. In addition to writing travel articles, she occasionally teaches specialized language courses to boaters and fellow travellers.
Her writings have ranged from articles on travel and Northwest history to poetry and fiction. She has been published in Canada, the United States and Mexico.
At the present time, Jan is completing a book on the history of Shaughnessy Hospital, British Columbia's most famous veterans hospital. She is a regular contributor to the Bridge River- Lillooet News and serves on the British Columbia Journalists' Committee for Freedom of Information.
Jan Lee lives in Lytton, BC, with her husband Jack and their german shepherd Sam.
Articles by Jan Lee