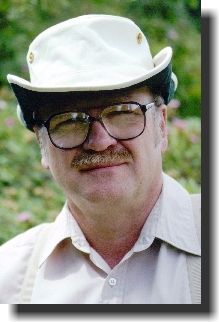 Murphy O. Shewchuk
P.O. Box 400
Merritt, B.C. Canada V1K 1B8
Voice/Fax (250) 378-5930
www.murphyshewchuk.com
Books | Articles | BC Adventure
Background | Periodical Credits | Published Books
Stock Photographs | Workshop Speaker
---
Background
I grew up in the British Columbia mining town of Pioneer Gold Mines during the late 1950s. I developed a triple interest in outdoor exploring, photography and electronics while still a teenager. After a stint in the Royal Canadian Air Force in eastern Canada, I and my family moved back to B.C. to a job in electronics with writing and photography as my major side interests.
In 1971, my work took me to Kamloops B.C., where I began writing a weekly Outdoor Scene column for the Kamloops Sentinel. From the column, I moved on to features in BC Outdoors and many other magazines. My wife Katharine and I now live in Merritt, B.C. where I write and illustrate newspaper and internet columns, magazine articles and books.
Selected Periodical Credits
More than 300 of my magazine articles and 1000 of my photographs have been published since 1965. They have appeared in such publications as: Adventure Travel, BC Outdoors, Camping Canada, Canadian Geographic, Field & Stream, MotorHome and Trailer Life. Plus photos and features in many other magazines.
Published Books
I have also written and illustrated 11 books or book length publications since 1973.
Exploring Kamloops Country (1973) Back country exploring in the Kamloops area.
Fur, Gold & Opals (1975) Rockhounding, history and back country exploring.
Exploring the Nicola Valley (1981) A guide to Merritt and the Nicola Valley.
Cariboo
The Craigmont Story (1983) The history of a mid 20th century copper mine.
Backroads Explorer Vol. 1: Thompson-Cariboo (1985) Lytton to Barkerville.
Backroads Explorer Vol. 2: Similkameen & South Okanagan (1988) Manning Park to Kelowna.
Coquihalla Country: An Outdoor Recreation Guide (1990) Hope - Merritt - Kamloops.
Okanagan Country: An Outdoor Recreation Guide. (1992) Osoyoos to the Shuswap.
Coquihalla Country: A Guide to the North Cascade Mountains and the Nicola Valley (Complete update - 1997).
Okanagan Trips & Trails A Guide to Backroads and Hiking Trails in BC's Okanagan-Similkameen Region (co-authored with Judie Steeves in 1999).
Stock Photography
In the course of my travels, I have accumulated over 30,000 35 mm transparencies. Although my selection leans heavily toward outdoor subjects in western Canada, I also have an excellent selection of images from Quebec, New Zealand and Costa Rica. These are available for publication on a stock basis and have been used extensively for brochures, book and periodical illustrations and other products such as calendars and post cards.
Writer's Workshop Speaker
In addition to a life-long interest in photography and exploring the mountains of western Canada, I have been a workshop speaker at writer's conferences across Canada and in the U.S.A. My writing and photography have received awards from the Outdoor Writers of Canada, the Northwest Outdoor Writers Association and the Macmillan Bloedel newspaper journalism competitions. In 1989, I was pleased to be honored with the Allen Sangster Award for contributions to the Canadian Authors Association. From June, 1996 to June, 1998, I served as National President of the Canadian Authors Association. I am also a member of the Periodical Writers Association of Canada (PWAC).
Copyright © 1999 - 2009 Murphy O. Shewchuk