September Fly Fishing for Salmon
article by Peter at Fred's Custom Tackle
---
September is here at last and with it comes the fall runs of Coho, Spring, Pink Sockeye and Chum salmon. All species of salmon will take flies!
Sockeye, Pink and Chum salmon will provide some great entertainment, but must be released in most rivers. Spring salmon are often found in deep, strong flowing water and are difficult to fish for with a fly! Coho salmon are more aggressive and will frequent water which is easy to fish with a fly.
Local waters that provide good prospects for the fly fisherman are the Chilliwack/Vedder River and Vedder Canal, the Harrison and Chehalis Rivers as well as the Fraser River between Deroche and Hope.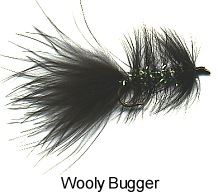 An important factor in flyfishing any river for salmon is to have the proper line for the speed and depth of the water. For fishing the Chilliwack/Vedder, a sink tip (type IV or V) is probably the best suited. This line allows you to fish even fast water to depths of 8' or so. The Harrison River and Vedder Canal, have much slower water speeds and can be fished with sink tip (type I, II and III) and slowing sinking lines.
The Fraser River has a very strong flow and is best fished with a sink tip (type IV and V) lines or 200 - 300 grain shooting lines. Keep in mind that with any sinking line it is usually best to keep your leader less than 10' in length. Fast and/or turbulent water is often best fished with leaders between 4' and 6' in length.
Common flies for salmon:
Coho:
muddler minnows
glo bugs / roe bugs
coho blue, coho green bucktails
coho flash
marabou streamers
professor
mickey fin
Pink, Sockeye and Chum:
marabou streamer
popsicles
wooly buggers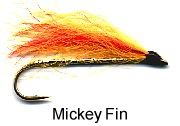 When choosing colours, consider that fluorescent pinks and reds will attract a lot of Pink and Chum salmon. By choosing more subdued or natural colours you will decrease your Pink and Chum number, but you will still catch Coho.
The abundance of salmon in the fall will attract lots of anglers. It is not necessary to fish the popular "holes" since these fish are all traveling upstream. On their way, they will travel through miles of perfect flyfishing water.
Go out and enjoy the fishing opportunities this fall season should bring.
---
Be sure to read all of the other articles from Fred's Custom Tackle & Fishing Adventures, the Fraser Valley's fishing authority.