Fly Lines & Extra Long Leaders
article and photos by Gordon Honey
---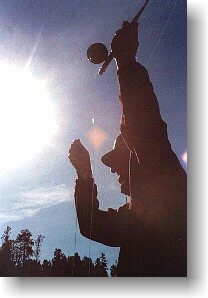 Selecting the correct fly line for specific angling circumstances, can be the key to a day of success or one filled with frustration and long faces. Your fly line is critical in how you present your chosen fly to not only the correct depth but in a manner that will induce our finned quarry into eating it.
As a new fly fisher, fly line selection can be very confusing, not only the terminology, weight, foreword, double taper, level, specialty lines such as shooting heads Bass Bug taper, Salmon taper, Steeled taper, etc. etc.!! Floating lines, sink tips in a multitude of options, full sink lines, again in different sink rates, i.e., intermediate slow, fast deep water express, etc., etc., etc.!!!
You should begin with two line types - a full floating and an intermediate line both in WF (Weight Foreword) as they are much easier to cast. The line you chose must match your rod if you have a 6 weight rod then chose a 6 weight line so that the two are matched and can work together when casting. This weight ratio for rods and lines was agreed upon years ago by all manufacturers. The floating line will allow you to fish with floating files referred to as dry flies, it will also allow you to use various nymphs, referred to as wet flies (remember 95% of the trout's food source is sub surface), floating lines allow you to fish in shallow water situations and by lengthening your leaders up to 15 - 25 feet, deeper water. (Floating lines and long leaders get a little crazy so we will deal with that scenario below). The intermediate line will allow you to fish water from say 3 ft. to 12 ft. The beauty of an intermediate line is that it maintains your fly in the critical zone in a consistent manner, allowing you to keep your fly in the fish's face as long as possible.
Don't let all of this confuse you, prior to purchasing a line, spend some time researching so that you develop a good understanding. Drop by your favorite shop, ask lots of questions and pick up brochures from the manufactures, they are well presented and easy to understand.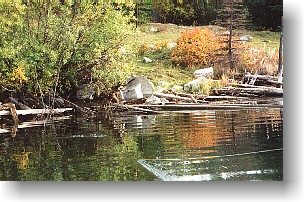 Long Leader's When and Why?
The use of long leader's, 16 to 25, appears to be a Kamloops phenomenon. Angler's in the U.S. shake their heads in wonder and ask the obvious question; "How on earth do you cast them? My stock answer, "Very, very carefully!
The long leader application allows us to fish nymphs in relatively deep water, with a floating line. We do this for two main reasons, it is more enjoyable to not only cast floating lines, but to also play fish. Floating lines are much lighter and because they are on the surface they create less drag when a fish makes long runs. The number one reason for the floating line - long leaders combination is to allow you to present a nymph at an appropriate depth, for a longer period of time. This applies especially when chironomid fishing.
The floating line - long leader chironomid technique again appears to be a Kamloops creation. Our interior lakes have tremendous chironomid hatches especially in April and May. It is without a doubt the most abundant and prolonged of all invertebrate hatches and has become almost an obsession with many fly fishers. As chironomids have no ability to swim their vertical migration to the surface is a tedious trip to say the least. The trout following a long winter under the ice, relish chironomid hatches and will literally gorge themselves on these tiny tidbits. Imagine if you will, hundreds of thousands of pupae wiggling their way to the surface, trout simply cruise at a chosen depth, opening and closing their mouths, as they inhale these tasty morsels without, as nature demands, expending any energy.
For the fly fisher this provides us with a tremendous opportunity using the following technique: First, if you can, visually determine at what depth the fish are intercepting the pupae, cast your floating line across the breeze, so you can cross drift your fly into the feeding trout. Use a pre-determined countdown method to put your fly at the proper depth, your long leader now allows you to present your pattern to depths in excess of 20 feet. Now, begins a painstakingly slow retrieve, a figure eight or hand twist method is best . Your floating line is now acting as a bobber suspending your long leader and fly at the correct depth in combination with your ultra slow retrieve. Watch your line like a hawk and raise your rod tip at the slightest movement, remembering that the fish are cruising, slowly opening and closing their mouths on the pupae, therefor the take can be very subtle. This combination of floating line and long leader can also work well for fishing Mayfly nymphs and sedge pupas as they swim quite rapidly to the surface, as well as Leeches in the spring and fall, and a great many different presentations. Casting long leaders can at first be difficult, slow everything down and throw wider loops, classic tight loops only lead to a multitude of wind knots and a great deal of wasted fishing time repairing and untangling leaders!
Floating lines and long leaders - a great combination, thanks to the ingenuity of Kamloops fly fishers.
---
Gordon Honey gordon@flyfishingservices.com