Revelstoke
British Columbia
Part of the BC Adventure Network. Over a million web site visitors annually !


Revelstoke, BC
A sense of history plus modern conveniences and activities describes Revelstoke, nestled in the shadows of the imposing mountains of the Selkirk Range between Mt. Revelstoke National Park and Glacier National Park.
Revelstoke began in the 1880s as a transportation and supply center for BC's mining industry. This was soon bolstered by the construction of the trans-continental railway and the subsequent decision of the Canadian Pacific railway to establish its main operations offices and maintenance facilities. The railway played a large part in the area's development and its story can be viewed at the Railway Museum.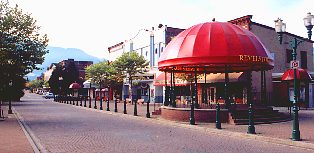 Today this vibrant community is developing into one of British Columbia's all season playgrounds. Outdoor adventures take advantage of the areas breathtaking scenery with back country hiking, ski touring, heli-skiing, snowmobiling, downhill skiing, snowboarding, camping, biking, river rafting, boating, rowing, canoeing and kayaking. Revelstoke also has an 18 hole golf course, bowling lanes, fitness centres, tennis courts, skating arena, curling rink, and outdoor swimming pool. The area boasts two national parks, three BC provincial parks, several municipal parks, hot spring developments, and an abundance of camping opportunities.
From Revelstoke you can take short trips north or south to experience even more adventures. To the north on Highway 23 you can visit Downie Provincial Park, Martha Creek Provincial Park and the famous Revelstoke Dam; a journey south on Highway 93 will take you to Blanket Creek Provincial Park and the scenic Arrow Lakes.
The nearby Purcell and Selkirk Mountains are world renowned for their soft deep powder snow (average of 60 feet yearly) that attracts those who want to experience heli-skiing or cat-skiing, downhill or cross country skiing. These and other winter activities can be experienced while enjoying the spectacular mountain scenery in the "Powder Snow Capitol of Canada".
Accommodation/Adventure Providers
| | |
| --- | --- |
| | Fresh Adventures Ski Vacations: Ski vacations and guided tours in BC and Alberta. Experience legendary ski resorts, epic terrain, powder and vibrant ski culture. Enjoy multiple mountains in your Western Canada ski vacation. more |
| | |
| --- | --- |
| | Glacier Raft Company: For 35 years Glacier Raft Company has been providing white water rafting trips on the Kicking Horse, and other beautiful rivers around Golden B.C. TripAdvisors #1 Attraction in Golden! We love the water and the thrill it provides and we want to share it with y... more |
| | |
| --- | --- |
| | Rocky Mountain Holidays: Rail Vacations in the Rocky Mountains & Western Canada! Rocky Mountain Holidays customize vacations that combine the romance of train travel with the magnificent scenery of Western Canada. more |
| | |
| --- | --- |
| | See The Rockies: Travel Guide to the Canadian Rockies. Map driving routes, explore Canada's Rocky Mountain National Parks, including Banff and jasper. Book lodging at hotels, resorts, guest ranches, and lodges. Plan sightseeing tours, outdoor adventures and more! more |
If you would like to have your business listed, please
Click Here.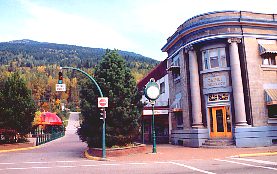 Population: 9,000
Elevation: 457 metres (1499 ft.)
Main Industries: Forestry, Transportation, and Tourism / Hospitality
Access: Revelstoke is easily accessed from southern BC and Alberta on the the Trans Canada Highway. It is approximately 282 km (174 mi.) from Banff through spectacular Banff National Park.
From Kamloops, in the west it is approximately 210 km (130 mi.) through desert like terrain and wooded mountains to winding routes along the steep embankment of a river or lake. Access is also possible from the Okanagan Valley in the south using Highway 97C
Recreation Facilities & Activities: Fishing; hiking; horseback riding; mountain biking; photography; boat tours; whitewater rafting; 18 hole championship public golf course; snowmobiling; heli - cat - cross country - and downhill skiing
Local Attractions: Revelstoke Railway Museum; 3 Valley Gap historical site; the Enchanted Forest; glaciers; giant cedar stands; Revelstoke Dam (Canada's highest concrete dam at 175 metres), Mount Glacier and Revelstoke National Parks.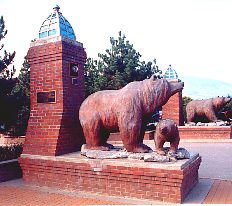 Events:
May to October - Farmers Market (Saturdays)
June - Mountain Beats and Blues Festival, Grizzly Bear Run, Mount Mac Challenge X-country Bike Race
July - Timber Days
July & August - Summer Street Entertainment nightly in Grizzly Plaza
August - Revelstoke Railway Days (an annual 10 day city-wide festival. see www.railwaydays.com.), Glacier Challenge Ball Tournament, Eva Lake Pilgrimage
September - Mountain Arts Festival
Area Weather: Weather in the region develops as a result of warm moisture-laden air from the Pacific being deflected upwards by the Columbia Mountains. The cooling of this air mass brings significant precipitation to the Columbia's, particularly during the winter months. The mean annual precipitation is 1278mm (50in) at Revelstoke, 1995mm (79in) in the subalpine zone. Variations in daily weather reflect the variety of topography throughout the Columbia Mountains. December and January are typically the snowiest months while July and August are the warmest months.
Accommodations: Revelstoke offers numerous hotels and motels, camping, bed and breakfast, world-class resorts & chalets, and hostels for summer and winter visitors (budget to deluxe accommodations). Full-service winter RV camping facilities are also available
---
For Information Contact:
Revelstoke Chamber of Commerce
206 Campbell Ave. P.O. Box 490, Revelstoke, B.C., V0E 2S0
Telephone (250) 837-5345
BC Rockies Tourism
P.O. Box 10, 1905 Warren Avenue, Kimberley, B.C. V1A 2Y5
Telephone: (250) 427-4838 • Fax: (250) 427-3344