Wells Gray Provincial Park, BC
One of British Columbia's most spectacular provincial parks, the wilderness area of Wells Gray Provincial Park is now 540,000 hectares encompassing most of the Clearwater River watershed. To the east and north of the park are the giant peaks and glaciers of the Cariboo Mountains and to the west and south are upland plateaus and alpine meadows where wildflowers splash their dazzling colours.
---

Five major lakes, two river systems, numerous small lakes and streams as well as mineral springs, lava beds and extinct volcanoes are found within this vast area. Forest cover consists mainly of Douglas fir, western red cedar, hemlock, cottonwood, willow, birch and trembling aspen.
The variety of landscapes in Wells Gray Provincial Park creates the perfect habitat for many different wildlife species such as deer, bears, mountain goats, beavers, wolverines and a diverse array of birds. Trails throughout the park lead to numerous, breathtaking waterfalls.
If you would like to have your business listed, please
Click Here.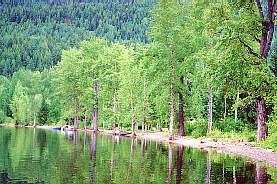 LOCATION
The park is located 384 kilometres northeast of Vancouver, BC. The main entrance to Wells Gray Provincial Park is at Hemp Creek, 40 km north of the Yellowhead Highway #5 via the Clearwater Valley Road. The turn-off from the highway is near the community of Clearwater which is 120 km northeast of the City of Kamloops.
Park can also be accessed by turning off Hwy 97 at 100 Mile House. Be advised, it is an 88km drive from 100 Mile House, so fill your gas tank in advance!

PARK FACILITIES & ACTIVITIES
There are four campgrounds within the park, each with water, toilets and firewood provided: Dawson Falls (10 units), Clearwater Lake (32 units), Falls Creek (41 units) and Mahood Lake (32 units). Picnic areas are located at various sites along the park road. Wilderness campgrounds are located at various areas in the park.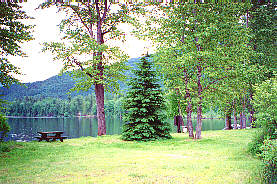 Fishing & Boating - There are boat launch ramps at Clearwater and Mahood Lakes. Most of the parks waterways are inhabited by rainbow trout, Dolly Varden and lake trout. Canoeing is a popular activity in all of the major lakes.
Wells Gray Hiking & Trails - There are many trails of various length and difficulty leading to the parks main attractions. During the winter months these trails are used for cross-country skiing and snowshoeing.
COMMERCIAL FACILITIES
Canoe rentals, guided horse back tours, fishing trips, food, accommodations and lodging are just some of the services located nearby. Contact either the Wells Gray or 100 Mile House Information Centres for more information.
Read an article on Wells Gray Provincial Park
---

British Columbia Adventure Network © 1995 - Interactive Broadcasting Corporation