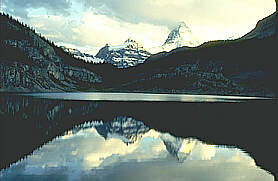 Noted for its spectacular hiking, Mount Assiniboine stands at 3,618 metres in this 38,600 hectare park bearing its name. The park is roughly a triangular shape which borders partially on the boundaries of Banff National Park and Kootenay National Park.

---
The jagged peaks, shimmering lakes, glistening glaciers and sun- dappled alpine meadows make this wilderness scenery some of the most stunning in the Canadian Rockies. Vegetation consists of spruce, alpine fir, and lodgepole pine as well as patches of false azalea, buffalo berries, twinberries and white rhododendrons amongst many other spectacular species of flora. Hundreds of species of wildflowers are found here during mid- summer. Animals including the elk, black and grizzly bear, mule deer, moose, mountain goats, squirrels and chipmunks, marten and mink and coyote are found here as well as ninety-three species of birds.
| | |
| --- | --- |
| | See The Rockies: Travel Guide to the Canadian Rockies. Map driving routes, explore Canada's Rocky Mountain National Parks, including Banff and jasper. Book lodging at hotels, resorts, guest ranches, and lodges. Plan sightseeing tours, outdoor adventures and more! more |
If you would like to have your business listed, please Click Here.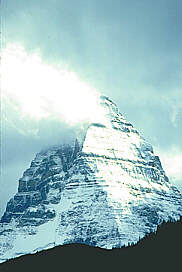 LOCATION
Located northeast of Radium Hot Springs and southwest of Banff is Mount Assiniboine National Park. Routes to enter the park include Highway 93 to Lake Magog, Spray Lake Resevoir to Lake Magog, Highway 93 to Lake Magog via the Mitchell River and Sunshine Ski Valley to Lake Magog. Because of the complicated nature of entering this park please contact either a local map retailer or the address listed below:

BC Parks
District Manager
Box 118
Wasa, BC VOB 2K0
telephone (250) 422 4200
facsimile (250) 422 3326
PARK FACILITIES & ACTIVITIES
Camping - On the bench above the west side of Lake Magog is the main camping area. A group camping area is provided. Camping is also located at the north end of Og Lake. Water is provided by nearby springs and small streams. Located on the south side of Magog Creek are four alpine cabin shelters, known as the Naiset Cabins. A climbing shelter is located in the Assiniboine Bowl and other cabins are found in various locations. Campfires are not permitted throughout the core area of the park. Primus-type stoves must be used for cooking.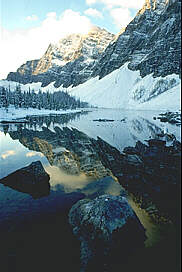 Fishing & Boating - Angling in the lakes and waterways of this park can be rewarding but is unpredictable and often different lakes are closed for fishing.
Hiking & Trails - Numerous trails wind their way through the park. They vary in difficulty and length, some being short, easy day hikes and others long, difficult overnight trips. During the winter months, skiing in and out of the park on either tele-mark skis or alpine touring equipment is a popular way to see the area.
Other activities - Horses are allowed in the park with a permit on specified trails. Mountain bikes are allowed on the Assiniboine Pass Trail in the park only.
COMMERCIAL FACILITIES
Near Lake Magog is the Mount Assiniboine Lodge.
---
British Columbia Adventure Network © 1995 - Interactive Broadcasting Corporation