Scuba Diving on the Central Coast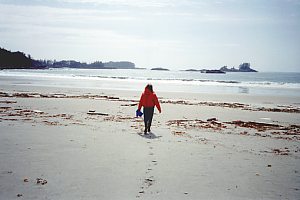 "Bella Coola divers do most of their diving on the outer Central Coast. In Bella Coola we have a few sites that are close enough to reach by small dive boats but the best sites are farther out on the coast. The reason for this is because in Bella Coola we experience the usual problems associated with having a large river at the head of our inlet.
In the summer months we have poor visibility due to river run off and plankton blooms. In the winter, we suffer the full wrath of winter conditions, which are not all that favorable. The water is clear but its that getting out that's the problem (BURR, cold, cold, cold). We get a lot of east wind that makes it a bit uncomfortable. Dry suits are recommended for the winter months, but wet suits are fine for the rest of the year.There are a few places to dive but its wise to ask around because we do get some strange tide movements, and if you're not in the right spot to dive you my get disappointed. Some places just don't have a lot to see.
If you do come to the coast I recommend a charter to take full advantage of our vast and beautiful coast line."
- Todd Rambo, Skipper, SeaFun Charters, Bella Coola
---
---