The Bulkley River & Morice River
Article & photos by Ian Forbes
---
The Morice River - Bulkley River system is one of BC's finest steelhead rivers.
When the Morice River joins the much smaller Bulkley River, near the town of Houston in central British Columbia, it takes on that little stream's name. After joining the Skeena at Hazelton, the Bulkley gives up its name to this larger river. The whole Skeena System is a Mecca for anglers, and was truthfully called Steelhead Paradise in John Fennelly's great little book.
What sets the Bulkley River apart from other rivers is its steelhead's penchant for taking the dryfly. The Bulkley River has fine natural habitat for caddis , stoneflies and mayflies. Steelhead smolts in the Morice River often spend an extra year in the river and they feed heavily on these aquatic insects. This imprints a "trouty" aspect in its steelhead parr and it remains with the adults returning after their ocean voyage.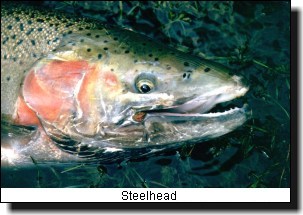 Steelhead willing to rise to a fly on the surface are called "Players". These fish are highly regarded by anglers who take up the challenge and try to induce the steelhead to strike. Although steelhead will often rise several times to a fly they won't always take. It's not unusual for a steelhead to rise a dozen times before solidly taking a fly.
Paul and I had run down the Morice River in my battered old aluminum boat powered by an 18 HP Evinrude. Changing shear pins was a common occurrence. We were camping along the way because in the 1960's there were very few access points on the river. Today, there is a logging road providing many points of egress along the river. Northwood Mills at Houston provides a recreation map of the area.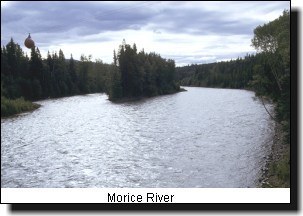 The crisp late September weather had turned the aspen and cottonwoods a brilliant yellow, and the river was low and clear. We were primarily after steelhead, but were happy just to be fishing. Grizzly tracks were commonly seen in the sand-bars along the river and we carried only can goods to keep from attracting these large carnivores. We supplemented our diet with a few of the plentiful resident Rainbow trout and Dolly Varden.
The upper Morice River was and still is a tricky piece of water to navigate. The river changes yearly; with sweepers, log jambs, rock gardens and rapids being constant hazards. We pulled the boat onto shore at the head of every run before fishing down through it. To cover the water more thoroughly we took turns fishing the water with flies before using our spinning rods. Spinners were far more effective than flies, but catching a steelhead on the fly was more enjoyable. We had both taken enough steelhead on gear to appreciate the challenge of fly fishing for this premier gamefish.
---
---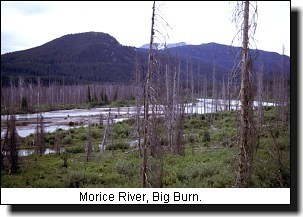 It was on a run just below Gosnell Creek that I ran into my first "Player". Paul had worked down through the run with a sinking line and said he had a "Pull" in a barely discernible pocket. I had been dryfly fishing for resident trout and was using a Yellow Buck; a classic old humpy style deer hair pattern. While dead drifting my dryfly through the tiny pocket a boil appeared under the fly. But, that was all. On three successive casts something rose under the fly but wouldn't take. Then I made what I thought was a bad cast and the fly dragged as it went over the pocket. That taught me a valuable lesson about summer steelhead. A large snout appeared and the Yellow Buck vanished into the mouth of a 12 pound steelhead. Fortunately, I got a good hook set and playing the fish was anticlimactic. Just let it be said that summer steelhead are very strong fighters and provide all the excitement an angler could want on a light fly rod.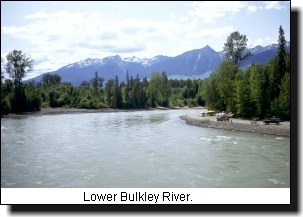 Although steelhead will take a dryfly in a classic dead drift manner, they appear to prefer a fly with a SLIGHT bit of drag. A waking fly fished in the surface film, and guided downstream slightly slower than current speed is a deadly method. Pattern isn't usually important, but it doesn't hurt to imitate natural insects in colour and size. I prefer mixtures of yellow, green, brown and grey flies on 2X long shank size 4 and 6 hooks. Deer hair is an important ingredient in all my dry flies. For wet flies I use either orange or black wooly bugger styles.
Jimmy Wright, the superb photographer and steelhead guide, caught hundreds of steelhead using only one of two patterns. Both flies were horrible creations. One was a big shaggy black thing made of marabou he used for a submerged pattern, and the other was his dryfly. It was a rough hank of deer hair tied on a hook. It looked Godawful, but it caught fish.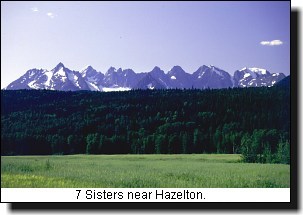 Although there is some road side access along the Morice and Bulkley, a boat provides a decided advantage in covering the vast amount of water. Guides use jet boats, but they aren't necessary. From Houston to Telkwa, the Bulkley River has an easy gradient, and just about any craft is adequate. Canoes, pontoon boats and aluminum skiffs are popular. Downstream from Telkwa the river is rough, with little public access, and it's best left to jet boats. The Telkwa River also dirties the Bulkley after any sort of heavy rain. As previously stated, the Morice River can be tricky and is best left to experienced boatmen.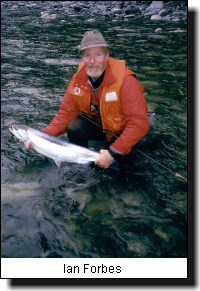 There are two bridge crossings over the Bulkley between Houston and Telkwa, dividing the river into three sections. Each section makes a nice full day's drift with lots of time for fishing. Trying to do two sections in a day doesn't leave much time to properly cover the water.
In July, the Morice River is still milky with snow runoff, but it gradually clears by August. July is the time for Chinook salmon. Although they can be caught on the fly, lures are far more effective. A few steelhead are available by early September, but this run was annihilated by the sockeye net fishery. The third week of September is far more productive. There can be more steelhead in October, but water and weather conditions may hurt the fishing. November is an "Iffy" month. If the weather is dry and mild the steelheading can be great. Otherwise the river could be frozen over or washed out in a rain
© Copyright Ian Forbes