Marmots
Marmota caligata or Rockchuck, Mountain Marmot,
Whistler, Hoary Marmot
---
Description - The marmot is a large animal this is silver-grey above with a brownish rump and whitish belly. Distinct black and white marks are on the head and shoulders. The tail of the marmot is large, reddish-brown and bushy. Average weight is 8-20 pounds.
Distribution - This species of marmot lives throughout all of British Columbia in talus slopes in the mountains.
Biology - Marmots feed almost entirely on greens. In May, 4-5 young are born. When in danger this animal gives off a shrill, piercing "Eeeeeee" alarm hence the nickname "whistler". Many carnivores prey on marmots; bears may dig up marmot that are still hibernating in the early spring.
---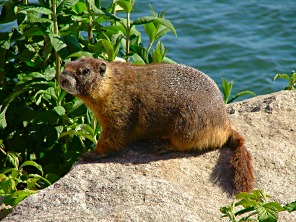 Yellow-Bellied Marmot
Photo courtesy of Michael Wigg.