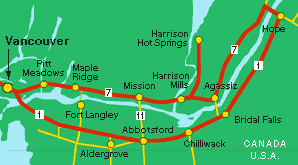 FRASER VALLEY TOUR
2 to 3 days
Depart from Vancouver, BC on Highway 7 east (follow Broadway, which becomes Lougheed Highway near Burnaby). You will be on the north side of the Fraser River. Pitt Meadows (31 km/20 miles) is known for its many berry fields and excellent golf courses.
In Maple Ridge (42km/26 miles from Vancouver), pay a visit to the restored Haney House and Maple Ridge Museum. The Kanaka Creek Fish Hatchery (256th St. and Dewdney Trunk Road) provides an informative look at one of BC's most cherished natural resources. Golden Ears Provincial Park has camping facilities.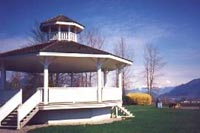 Mission
Mission (approximately 29km/18 km further east), is home to the Hatzic Rock archaeological site, marking a Sto:lo aboriginal settlement and spiritual gathering site. Interpretive tours are available to visitors. Mission's Westminster Abbey is home to a working order of Benedictine monks and possesses a stunning vista of the Fraser River Valley below.
East of Mission, on the south side of Harrison River is the Kilby General Store Museum, a historic 1920's heritage site that provides a glance at what rural life was like at the turn of the century.

At Agassiz (47km/30 miles from Mission) head north on Hwy 9 to Harrison Hot Springs, known for its championship sand sculpture competition in September and soothing mineral springs. There are several excellent hotels and restaurants at Harrison, or you can enjoy camping at any one of 14 BC Forest sites (pick up a Chilliwack BC Forest map for a list of the sites that have road access for RVs). Sasquatch Provincial Park also offers 177 campsites and attractions ranging from mountain biking to kayaking and fishing.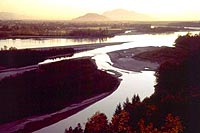 Hope Area
Hope (approximately 44 km/28 miles from Harrison) at the mouth of the Fraser Canyon has an impressive collection of chainsaw sculptures. Take the short walk through the spectacular Othello-Quintette Tunnels that were carved out of the solid granite mountainside to complete a new railway during the First World War.
Heading west on Highway 1 you will come to Minter Gardens (approximately 36 km/23 miles). Enjoy a tour through this 27 acre theme garden at the base of 7,000 foot Mount Cheam. Stop at the spectacular cascading Bridal Falls, which offers wheelchair access to its facilities and scenic picnic grounds.
Following Highway 1, you will come to Chilliwack (14 km/9 miles from Bridal Falls), the "City of Festivals" that is known for its Chilliwack Dixieland Jazz Festival held every May.
Abbotsford (22km/14 miles from Chilliwack), is renown for its international airshow, held annually in August. Tulip fields decorate the landscape in springtime and become the focus of the Bradner Flower Show.
Continue west on Highway 1 towards Vancouver, stopping at the Greater Vancouver Zoological Centre in Aldergrove (approximately 20 km/13 miles) from Abbotsford, with its 126 species of exotic and domestic animals and miniature railway. Just beyond Aldergrove off Highway 1 is Fort Langley, an original Hudson Bay trading post. The Fraser Valley's only estate winery can be found in neighbouring Langley.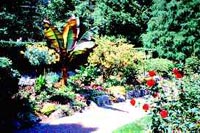 Rose Garden in New Westminster.
Follow Highway 1 towards Vancouver and the riverside community of New Westminster, home of the Westminster Quay Public Market. Boat tours of the Fraser River leave from the Quay every day, and escort visitors down the river to the historic fishing village of Steveston.
From New Westminster, follow Highway 1 back to Vancouver (25 km/16 miles). Take the First Street exit to head downtown.
Be sure to browse the Points of Interest:
Read a Travelog: