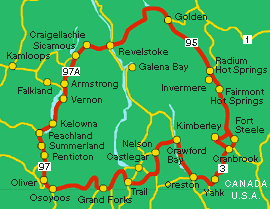 OKANAGAN, SHUSWAP, ROCKIES, KOOTENAYS: Mountains & Vineyards Tour
5 to 9 days
This tour begins at the town of Osoyoos, 396 km/248 miles from Vancouver, the intersection of Highway 3 and Highway 97. Osoyoos is BC's "desert oasis", at the base of the Okanagan. The northern end of the Sonoran Desert runs through this area, a climatic zone which is not unlike the arid landscape of Central Mexico.
While in the Okanagan, visit a few of the area's vineyards and the unusual wine festivals that take place each Spring and Fall throughout the region. Pick up a listing of wineries from a local BC Liquor store and savour a few of the newer vintages.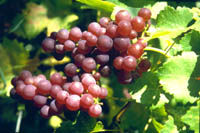 Luscious grapes of the Okanagan.
Kelowna (128 km/80 miles), is the hub of the Okanagan. The Okanaganan Fall Wine Festival usually kicks off here, and is a great way to sample some of Kelowna's better continental cuisine. The area also offers mountain biking and fresh water diving as well as campgrounds with RV hookups.
In Vernon (114 km/71 miles from Penticton), at the northern end of the Okanagan, stop by the Historic O'Keefe Ranch, a testimony to one of BC's earlier pioneers. Just north of Vernon, the road splits to Highway 97 (west) and 97a (east). Continuing west on Highway 97a, you will come to Armstrong (22 km/14 miles from Vernon), with its air balloon festival, which takes place each Canadian Thanksgiving weekend.
Sicamous (75 km/47 miles from Armstrong), located at the southeast end of Shuswap Lake, is the intersection point to for Highway 97c and Highway 1 east. In addition to houseboat rentals, there are several RV parks and provincial campgrounds on the Shuswap.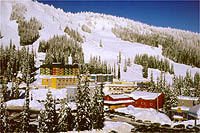 Silver Star Resort
Photo Courtesy of Don Weixl/Silver Star
A wealth of winter activities exist in the Okanagan. Big White Ski Resort, Sun Peaks Resort, Silver Star Mountain, Sovereign Lake Cross Country Ski Area and Larch Hills Cross Country Ski Area are popular locations. Snowmobile guided tours are also available through Silver Star.
From Sicamous, your journey takes you east on Highway 1 to Revelstoke (71 km/44 miles from Sicamous), a fascinating monument to early British Columbia history. Established as a railway town in 1880, it maintains a railway museum and provides a self-guided heritage walking tour for visitors. Revelstoke Dam, five minutes north of the town is Canada's highest concrete dam, another marker of extraordinary human feat.
Mount Revelstoke National Park and Glacier National Park are two popular recreation areas east of the town. Both offer camping. There are more than 400 active glaciers in Glacier National Park.

In Golden (148km/93 miles from Revelstoke), where your journey turns south again onto Highway 95, you will find opportunities for backpacking, horseback riding and heli-skiing. Approximately 35 km/22 miles further on Highway 1 is Yoho National Park, home of the famous Spiral Tunnels, a testament to one of the steepest railway grades in North America.
Highway 95 takes you to the Kootenays, and Radium Hot Springs (105 km/66 miles from Golden). The hot springs sit on the edge of Sinclair Canyon, tall, rusty coloured walls that get their appearance from the iron in the rock.
Invermere, 13 km/8 miles south, hosts the annual Treetop Artwalk. An eclectic assortment of art from BC and Alberta are featured each July and August.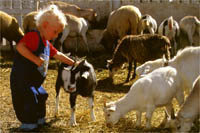 Many different activities in British Columbia.
Photo Courtesy of Thompson Okanagan
Tourism Association
89 km/56 miles south of Invermere you will take 95a to Kimberly (27 km/17 miles from the intersection). Kimberly is the Kootenay's Bavarian village, with its decorative alpine-like chalets and the world's largest clock. This century-old town offers a restful respite with German style cuisine and a world-famous accordion festival in July.
Cranbrook (approximately 22 km/14 miles further south) houses the Canadian Museum of Rail History, a marker to the exceptional history of BC's Rockies.
At Cranbrook you rejoin Highways 3 and 95, which take you southwest. You travel through many small communities, each with their own history and unique cultural heritage. You will pass through Yahk (where the road splits and you continue on Highway 3), with its historic hotel, and Creston, the home of Kokanee Beer. Tours and tasting are offered in the summer.
A short detour at Salmo (83 km/52 miles from Creston) via Highway 6 north takes you to Nelson (41 km/26 miles north), the second largest collection of heritage buildings in the province.
Following Highway 3a south from Nelson, you will come to Castlegar (41 km/26 miles from Nelson), home of the Doukobor settlers who immigrated from Russia in the 1800's. The Zukerberg Island Heritage Park, with its scenic walking trails, was named after one of their more famous residents.
Heading west on Highway 3, your next main stop is Grand Forks (94 km/59 miles from Castlegar), also known for its Doukobor heritage. Its flavourful Russian cuisine presents a worthwhile stop on your way back home.
Be sure to browse the Points of Interest:
Read a Travelog: