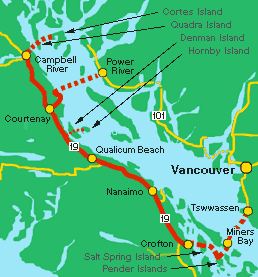 BC'S ISLAND TOUR
4 to 8 days
The best part about travelling BC's Gulf Islands is that you can set the itinerary yourself and "island hop" according to your preference and interest. The Gulf Islands are comprised of 14 islands, and each are unique. Many of them host artist colonies, others are distinctive for their cultural, ecological and historical attractions.
While BC travellers need to be aware of the ferry schedules to and from their destinations (some routes have only 2-3 sailings per day), "island hopping" can be the perfect circle tour. The following itinerary is just a sample of some of the sights you will see on a tour of BC's island coasts.
You begin your trip at the Tswwassen Ferry Terminal, approximately 35 km/22 miles south of Vancouver, BC. Take a morning ferry to Mayne Island. Sailing time is 1 hour, 25 minutes. Spend the morning browsing the shops in Miners Bay and check out the museum, located in and old jailhouse. After lunch, charter a cruise around the island waters, or hike Mount Park Regional Park for a sensational view of Active Pass and the nearby islands.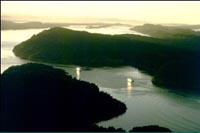 Coastal Waters
Photo Courtesy of Tourism BC
In the afternoon take the ferry to Pender Islands (25 minutes), where you will have reserved accommodation at one of the bed and breakfast homes.
The next day, kayak or swim at Mortimer Spit. Or drive the two islands which are connected by a bridge and enjoy the tranquility of island countryside.
The third day take the ferry to Salt Spring Island (Long Harbour - 40 minutes), one of the Gulf Island's best known artist enclaves. Visit the many small artist shops and galleries. If you enjoy diving, you will find plenty of opportunity at Princess Margaret Marine Park. Camp at Ruckle Park, or stay in one of Salt Spring's restful inns or hotels.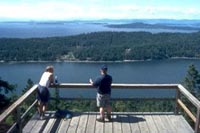 View from South Pender Island
Photo Courtesy of CRD Parks
When you are ready for a change, drive to Vesuvius Bay and take the ferry to Crofton, at the south end of Vancouver Island (20 minutes). Spend some time touring the coast. Check out Nanaimo's impressive listing of heritage buildings, and dine in one of its fine restaurants (approximately 25 km/16 miles north).
Follow Highway 19 north to Buckley Bay (approximately 76 km/48 miles north of Nanaimo), where you can catch the ferry for Denman Island (a 15 minute ride).
Camp near the beach at Fillongley Provincial Park, enjoy the shoreline, or hike and swim. Rent a bike and tour Denman. When you are ready for a change of scenery, take the ferry to Hornby Island, 15 minutes away, and scuba dive at Fords Cove. Or hike Helliwell Bay Provincial Park, where you can take in a breathtaking view from Helliwell Bluffs.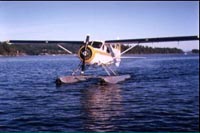 Float Plane
Photo Courtesy of Salt Spring
Chamber of Commerce
Return to Vancouver from Denman Island, or if you are not ready to leave the islands yet, take the ferry back to Vancouver Island, and proceed up the coast to Campbell River (66 km/41 miles), where you can catch the ferry for Quadra Island and Cortes Island from Quadra. Cortes offers unspoiled lakes and beaches - one of the Northern Islands more popular marine settings.
Return to Vancouver by any number of ferries. The sailing between Courtenay (46 km south of Campbell River) and Powell River gives you an excellent opportunity to see BC's Sunshine Coast as you wind your way back to the Vancouver Mainland. Or return to Nanaimo or Swartz Bay (32 km/20 miles north of Victoria) for a more direct route.
Be sure to browse the Points of Interest:
Read a Travelog:
Check BC Ferries Information